Brake disc is a metal disc what mounted on the axle or wheel, along with the rotation of the wheels. The vehicle goes to slow down or stop when the brake discs brake by brake pad. General brake disc is provided with a circular hole. Its role is reducing weight and increase the friction. Brake discs are different, which is characterized in that the wall is thin, disc and the center is formed by sand core. Different kinds of brake disc, in the disc diameter, disc thickness and two pieces of gap size differences, hub thickness and height also each are not identical.

TEDRAIL supply brake disc for railway applications such as passenger coach and locomotive which is fully content of AAR and UIC 541-3 standard.
There are two types of brake discs:
Axle Mounted Brake Disc
Wheel Mount Brake Disc
TEDRAIL's brake disc is composed of
Friction Ring
Disc Hub
Fastener Parts, such as bolt, nut, and bush.
Table lists
PRODUCT TYPE
Axle-Mounted Disc
Wheel-Mounted Disc
MATERIAL - RING

Alloy Cast Steel

Gray Cast Iron

Alloy Cast Steel

Alloy Cast Steel

Gray Cast Iron

Alloy Cast Steel

MATERIAL - HUB
Forged Steel
Forged Steel
SIZE
Ø 470 – 720 mm
Ø550 – 1085 mm
WIDTH
70 – 170 mm
120 – 145 mm
Features:
Designing:

Material of friction ring could be changed according to customer's requirement.
Computer Simulation for Thermal calculation of temperature and stress
Finite element analysis
Optimized cooling rib of friction ring

Testing:
UT and MT for friction ring
MT for hub
Torsion Testing
Dynamic balancing testing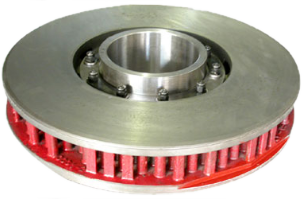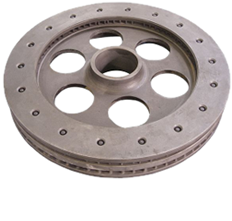 LOCOMOTIVE BRAKE DISC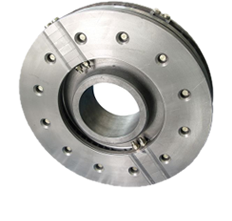 LOCOMOTIVE BRAKE DISC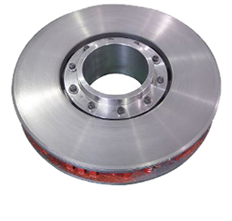 LOCOMOTIVE BRAKE DISC