The rail cast iron shoulder or shoulder is a semi-embedded part into the sleeper to fasten the clip to the base plate, and protect the clip from being stolen. We could supply different types of shoulders satisfying clients' needs.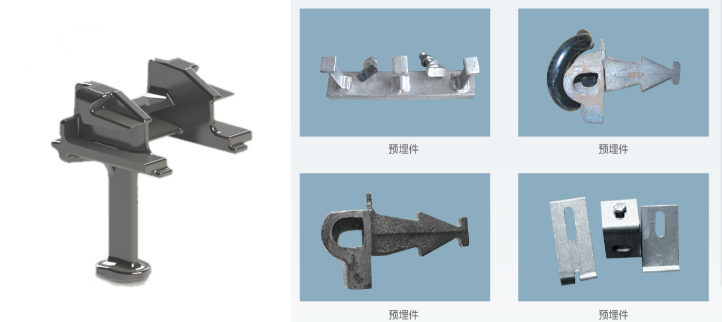 Rail shoulder material technical parameter
There are various kinds of Rail Elastic clips material could be chose according to customer's requirements. Normally TEDRAIL could offer following materials:
Rail shoulder material technical parameter
Material
Material Chemical Composition〔%〕
Tensile Strength(Mpa)
Yield Strength(Mpa)
Elongation(%)
C
Si
Mn
P
S
QT400-15(GGG40)
3.6-.36
3.0-3.2
0.5
0.07
0.02
400
250
15
QT450-10(GGG45)
3.4-3.9
3.7-3.0
0.5
0.07
0.03
450
310
10
QT500-7 (GGG50)
3.4-3.8
2.5-2.9
0.6
0.08
0.025
500
320
7
RUBBER RAIL PADS
Rubber rail pads are widely used to reduce fatigue cracking of the concrete ties caused by the vibration of passing train. When the train's wheel is over the pad, the latter's stiffness must be high to prevent large movements which can result in the metal spring becoming loose. Such a load-deflection characteristic can be obtained by introducing grooves in the rubber pads.