CHARACTERISTICS
Forged and wrought steel wheel
High axle loads (40+ tons)
High hardness
Superior wear resistance
Improved fracture toughness
Superior resistance to surface and subsurface Rolling
Contact Fatigue
Improved resistance to spalling
SHARP OF WEB
The shape of the wheel web should be of curved web design except for those wheels to which brake discs or quill tubes are attached or where other restrictions may preclude the use of such a design.
Straight webbed wheels should not be used on locomotives equipped with tread scrubbers or tread brakes used for service braking.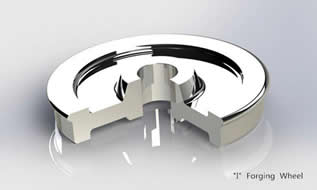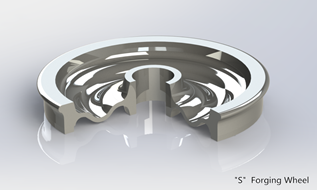 STANDARD WHEEL TYPE
Tedrail has supplied wide range of mono-block wheel, includes non-standard wheels (according to customers' designed drawings) and standard wheels for popular bogies in American, European, Asia and other area.
Table lists
NO.
TYPE
FEATURES
STANDARDS
RANGE
SPEED
SIZE
AXLE LOAD
TREAD TYPE
1
A28
Φ28"
14.9T
M-W
AAR M-107 AAR S660
Wide Flange Contour -Freight Wagon
V≤120km/h
2
E28
Φ28"
11T
E
3
A30
Φ30"
14.9T
M-W
4
J33
Φ33"
12.5T
1-W
5
M33
Φ33"
12.5T
2-W
6
P33
Φ33"
14.9T
M-W
7
H36
Φ36"
16.2T
1-W
8
J36
Φ36"
16.2T
2-W
9
K36
Φ36"
16.2T
M-W
10
B38
Φ38"
17.9T
1-W
11
C38
Φ38"
17.9T
2-W
12
D38
Φ38"
17.9T
M-W
13
F36
Φ36"


M-W
Narrow Flange Contour -Locomotive
14
A38
Φ38"


M-W
15
E40
Φ40"


M-W
16
A41
Φ41"


M-W
17
A42
Φ42"


M-W
18
A43
Φ43"


M-W
19
C42
Φ42"


M-W
20
D42
Φ42"


M-W
21
E42
Φ42"


M-W
22
Solid wheel DB920
BA115,BA215,BA018,BA116,BA220,BA002,BA004, BA304,BA092,BA080,BA005,BA118,Db10-sa,BA303
EN13262 UIC 812-3
Freight Wagon
V≤200km/h
23
Solid wheel DB840/DB850
BA079,BA378,BA379,FSA/BA171
24
Solid wheel DB730/DB760
BA375,BA077,Db26-sa
25
Solid wheel DB800/ DB900/DB1000
14X/BA003/BA193
26
Solid wheel DB1250/DB1300
E103, E120,Br 12x,Br145/185,Br 146 /1044
27
India 955
φ955
IRS R-19/93
Passenger Coach
V≤200km/h
28
Korea 851
φ851
BS5892
Passenger Coach
V≤120km/h
29
Turkey 920
φ920
EN13262 UIC812-3 TB/T2708-1996
Freight Wagon
V≤200km/h