A rail plate as well as called tie plate, base plate or solo plates is a thick steel panel that sits between the rails and ties, or sleepers, on a standard railroad track. The rail plate increases bearing area and hold the rail to correct gauge. They are fastened to wooden ties by means of spikes or bolts through holes in the plate.
Rail plates are generally tapered at either end to improve stability and reduce torsion and twisting along the rails. Rails installed with rail plates are better able to maintain their position, which helps to standardize the width, or gauge, of the track along its length. Engineers and builders use rail plates to extend the longevity of a new track installation, and to maximize safety for passengers and railway workers.
According to different applications and designs such as European, American, Russia, and Chinese, the rail plates have been made by hot-rolled or forged, and casted.
SOLE PLATES
Sole plates are used with rail constructions to support the rails. Depended on the load and the type of rail, choice can be made between continuous and discontinuous support. With both types, Bolted clips or welded clips can be applied.
Continuous Solo Plates
Length: Standard 5980 mm
Width: 150 ~ 500 mm
Thickness: 12 ~ 50 mm
Material: S235JR, S275JR, S355JO, Q235B, Q345B
Surface: Black, Coating, Hot Dip Galvanized.

Discontinuous Solo Plates
Length: 150 ~ 300 mm
Width: 150 ~ 500 mm
Thickness: 12 ~ 50 mm
Material: Material: S235JR, S275JR, S355JO, Q235B,Q345B
Surface: Black, Coating, Hot Dip Galvani

TIE PLATES FOR AREMA SPEICIFCATION
The use of single or double shoulder tie plates makes a more stable track and greatly lengthens the life of wood ties. Punched and sheared from hot-rolled steel sections, tie plates provide proper cant, uniform bearing surface for the ail and better load distribution to the ties. They hold the rail to gauge, providing more uniform wear to rail head and rotect against undue wear to ties. Tie plates are designed with a long end or field end to be located outside of the rails. In the case of single shoulder tie plates, the shoulder is placed on the field end of the plate. The gauge end or short end of the plate is located inside of the rails. When ordering ,identification of the rail section or the width of the rail base should be specified. Quality relaying tie plates are also available from our stocks which offer appreciable savings on railroad track age and industrial sidings.
Product Type: Single Shoulder Tie Plate / Double Shoulder Tie Plate
Production: Hot Rolled, Sheared and Punched
Specification: AREMA
Material: Low Carbon Steel – AISI 1020, 1030; High Carbon Steel – AISI 1045, 1060
Surface Cover: Black, Coating, Hot Dip Galvanized.
Type and sizes are listed on the following tables, Weight based on 8-hole 7-3/4" wide plate, except plan 1 and 2; UP/CN 16" plate is 6-hole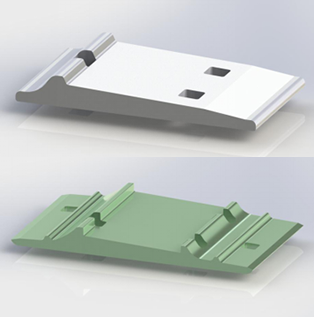 AREMA

Plan No.

Part Type

PUNCHING

Single

Shoulder(SS)

Length
Weight
Rail

Rail Base

Width

Double

Shoulder(DS)

(Inch)
(Pound)
1
10 Inch
A & B
SS
10
11.63
90 RA-A
5-1/8
2
11 Inch
A & B
SS
11
12.93
90RA-A
5-1/8
3
12Inch
A & B
DS
12
15.86
100RE
5-3/8
4
11Inch
B
DS
11
13.45
119RE/115RE
5-1/2
5
12Inch
A & B
DS
12
16.25
119RE/115RE
5-1/2
7
13Inch
A & B
DS
13
19.6
119RE/115RE
5-1/2
8
14Inch
A
DS
14
22.9
119RE/115RE
5-1/2
9
12Inch


DS
12
14.94
140RE/136RE/133RE/132RE
6
10
13Inch
A & B
DS
13
17.87
140RE/136RE/133RE/132RE
6
12
14Inch
A & B
DS
14
21.47
140RE/136RE/133RE/132RE
6
13
14-3/4Inch
A
DS
14-3/4
23.32
140RE/136RE/133RE/132RE
6
UP/CN
16Inch


DS
16
27.67
140RE/136RE/133RE/132RE
6
RIBBED BASE PLATES
S49/UIC54 Ribbed Base Plate Section – Rph 1