Tedrail offers nearly every size start with the Class B 4-1/4x8 and progresses through the alphabet to the various types of Class G 7x12", including the K, L and M class adapters according to AAR M-924 specification.
Adapters are available in standard sizes of 6-inch by 11-inch, 6-1/2-inch by 12-inch and 7-inch by 12-inch. Also available are 5-1/2-inch by 10-inch and 6-1/2-inch by 9-inch. Tedrail will deliver all sizes in any quantity. Plain, hardened-crown, and hardened-crown and shoulder adapters are available.

Every batch of delivered adapters will be inspected and gauged according to AAR M-924 specification.

Our adapters not only exceed M924 standards, but also have to pass additional inspections we have developed.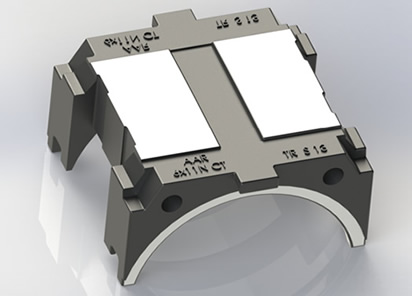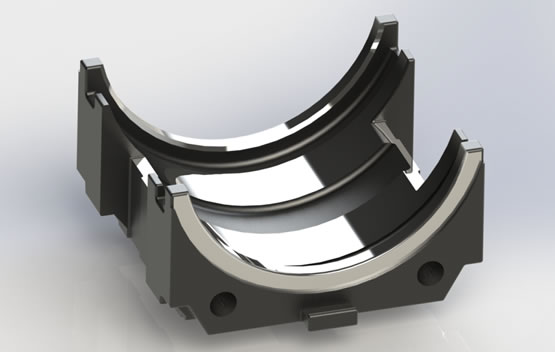 PRODUCTION & MATERIAL
Tedrail could be able to supply the adapter by Forging, Casting Steel, and Casting Iron to meet the requirement of the customer technical drawing. According to AAR M-924, the material could be chose as followings:
Material Code
PM -- Pearlitic Malleable Iron

S-- Castings Steel

F-- Forgings, Carbon Steel

D-- High Strength Cast Iron
Material Code should be casted or forged on the product to the related position according to AAR M-924 specification
Reference Material Specifications are as followings:
ASTM A220 GRADE 50005 Standard Specification for Pearlitic Malleable Iron

ASTM A148 GRADE 80-40 Standard Specification for Steel Castings,High Strength,for Structural Purposes

ASTM A536 GRADE 80-55-06 Standard Specification for Ductile Iron Castings

ASTM A236 GRADE C Specification for Carbon Steel Forgings for Railwa

AAR M-126 GRADE C Forgings, Carbon Steel
Service Features
Tedrail not only supply AAR standard adapter products, but also could manufacture the types of roller bearing adapters according to customer drawing. Material forged or casted, machining and heat treatment is to individual customer specifications with superior quality you're looking for.
Product List Table for Adapters
Table lists
CLASS
SIZE(in.)

PRODUCT

TYPE

ITEM NO
MATERIAL

PRODUCTION

METHOD

HARDNESS(HB)
SPECIFICATION

CUSTOMER

AREA

C
5 × 9
N

5 x 9N,5 x 9NC,

5 x 9NT,5 x 9NCT

ASTM A220

GRADE 50005

CASTING
179-228

AAR M-924-88

Standard Specification

for Journal Roller

Bearing Adapters

Freight Cars

USA/

CANADA/

MEXICO

D
5 1/2 x10
N

5 1/2 x10N,

5 1/2 x10NC,

5 1/2 x10NT,

5 1/2 x10NCT

ASTM A148

GRADE 40-80

CASTING
≥179
E
6x11
N

6x11N,6x11NC,

6x11NT,6x11NCT

ASTM A536

GRADE 80-55-06

CASTING

187-255 superficial

hardening 217-255 no superficial hardening

F
6 1/2 x12
N

6 1/2 x12N,

6 1/2 x12NC,

6 1/2 x12NT,

6 1/2 x12NCT

ASTM A236

GRADE C

FORGING
≥179
G
7x12
N

7x12N,7x12NC,

7x12NT,7x12NCT

AAR M-126

GRAD C

FORGING
≥179
K
6 1/2x9
N

6 1/2x9N,

6 1/2x9NC,

6 1/2x9NT,6 1/2x9NCT
Note:
N Narrow Type

C The top surface of circular arc quenching

T Thrust stop shoulder surface hardening

CT The top surface of circular arc and Thrust stop shoulder surface hardening