In the railroad industry, friction can be a real problem. While wear on components is inevitable, advances in the design of wear prevention products can significantly impact the overall endurance and operating performance of the rail car. TEDRAIL can provide prompt delivery of freight and transit cars, locomotive truck and coupler wear plates, liners, and shims. We have extensive fabrication capabilities, personal service, and low cost make. In addition to AAR standard wear plate products, we also offer custom specifications for the repair shop. TEDRAIL produces not only high manganese steel fabrications, but also wear parts of carbon, low alloy, stainless, and other corrosion-wear-resistant materials.
TEDRAIL is an innovator in wear prevention and has pioneered solutions that have truly advanced the industry.
Our wearing plate products include:

Bolster Pocket Wear Plate

Column Wear Plate

Unit Guide Brake Beam Wear Liner

One-piece Bolster Bowl Wear Liner

Horizontal Wear Liner

Vertical Wear Liner

Forged Raplacement Rim

Snap-On Roof Liner

Weld-On Roof Liner

Manganese Coupler Carrier Wear Plate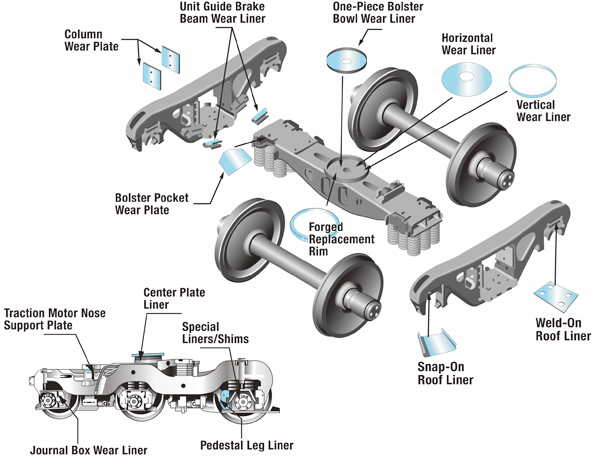 TEDRAIL has already supplied a big amount of wear plate to our long term cooperated customers at the area of United States, South Africa, Indonesia, Malaysia, India, Bangladesh and other countries. Following table is listed on our currently supply range. Of course, TEDRAIL can exactly make the wear plate according to customers' designed drawing.

Table lists
NO

TEDRAIL

P/N

PRODUCT

DESCRIPTION

WEARING PLATE

MATERIAL

WEARING PLATE HARDNESSS/

OTHER TEST

COMMENTS

CUSTOMER

AREA

1
WP0001

Unit Guide

Brake Beam Wear Liner

AISI C-1095 steel
36-42HRC

Designed to work with any size or

manufacture of brake beam Metallic Brake Beam Wear Guide


USA/

CANADA/

MEXICO/

AUSTRALIA

2

WP0005/

WP0004/

WP0006/

WP0007/

WP0008/

WP0009

Snap-On

Roof Liner

AISI-C1080/1090 STEEL
39-45HRC

Used for 70T BOGIE,14" Flat, Center

Bowl, Black

3
WP0010

Bolster Pocket

Wear Plate

ASTM A 514 type B ,

ASTM A 666 type

304 alloy steel or approved equivalent

Eat treated to

321 min. BHN

All bolster pocket wear plates flat

within .025".

4
WP0011

Column

Wear Plate

Hot wrought carbon

steel bar

365-415HBN

CS, 3/8"x7 1/2"x9 7/16", Bolt On,

Round Hole

6
WP0012

One-piece Bolster

Bowl Wear Liner

XP-91, black copolymer with

four grounding contacts.




12" x 1 1/8 " ,

14" x 1 1/8" ,

16 "x 2" Bolster bowl must be designed to accept horizontal and vertical wear liners.

7
WP0013

Horizontal Wear Liner

ASTM A 514 STEEL



Manganese Horizontal Center


Bowl Liner. Meets AAR S-305 & S-307 Stds 13.75" and 15.75" Available (3" hole)

8
WP0014

Vertical

Wear Liner

ASTM A240 type 304 or

A666 type 304

stainless steel,

cold or hot rolled,

annealed and pickled.

non-magnetic 128-201

BHN solution anneal (quench anneal) austenitize at 1850°f and water quench.

14" x 1 1/8",

16 "x 1 3/4",

16 "x 2"Bolster bowl must be designed to accept horizontal and vertical wear liners.

9
WP0015

Forged

Replacement Rim

AISI-C1030 STEEL

eat treated to 350min

HBN,AND approximate 300BHN AT 1/8"depth

12" x 1" ,14" x 1 " ,16 "x 1 3/8"

Forged rim

10
WP0016

Weld-On Roof Liner

AISI-C1080/1090 STEEL
39-45HRC

Used for 70T BOGIE,14" Flat,

Center Bowl, Black

11
WP0017

Coupler Carrier

Wear Plate

ASTM A128 GAR CAST MANGANES

STEEL, or heat-treated C-1040/1045 special bar quality steel




Coupler Carrier Wear Plates meet AAR S-26,

11-14% manganese steel, 9/32" or 7/16" THICK AVAILABLE
Tedrail P/N:
WP0001
Product Description:
Unit Guide Brake Beam Wear Liner
Material:
AISI C-1095 steel or ASTM A-689 Spring Steel
Hardness:
36-42HRC
Size or Spec:
AAR S-367 standard or according to client's drawing