AAR couplers, known as Alliance coupler, Janney Coupler or Knuckle Coupler is a kinds of semi-automatic railway couplers. They are most popular couplers in the world due to the simplicity design, low cost and easy manufacture. Tedrail supply the AAR couplers with following features:
Coupler Type: AAR E Type, AAR E/F Type, AAR F Type, AAR FR Type, AAR H Type.

Main components are coupler and coupler accessories, yoke, yoke pin, draft gear, coupler guide, follower and so on.

Coupler system should be fixed in the center sill, except coupler head was exposed to connect the wagons.

Tedrail AAR couplers are designed per AAR specifications. Material, production, and test will be following AAR specifications.

The main specifications have AAR M-211,AAR M-201,AAR M-901,and so on.

Typical coupler systems are E type coupler system and F type coupler system.
E type coupler system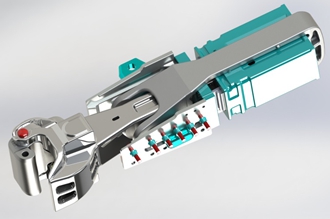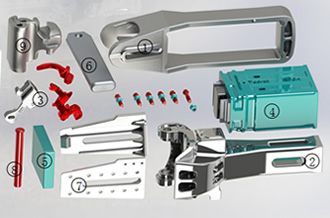 Yoke

Coupler body

Coupler parts

Draft gear

Follower

yoke pin

front plate

Knuckle pin

Knuckle
Main Part List of AAR type E coupler system
Table lists
PartName
Coupler
CouplerGuide
Yoke
Follower
DraftGear
Type
E60DE
MT15
Y40AE
Y44A/Y44AE
RDG-1
Specification
AARM-211
AARM-201
AARM-201
AARM-211 AARM-201 AARM-205
AARS-119
AARM-201
AARM901
F type coupler system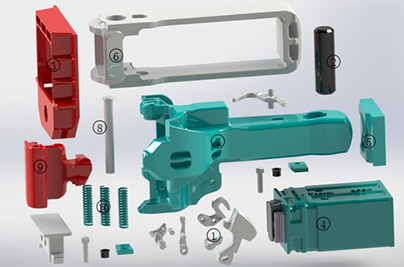 Coupler parts

Draftkey

Striker/Coupler guide

Draft gear

Follower

yoke

Coupler body

Knuckle pin

Knuckle

Guide spring
Main Part List of AAR Type F Coupler System
Table lists
PartName
Coupler
CouplerGuide
Yoke
Follower
DraftGear
Type
F70DE
MT2
Y45AE
Y46AE
RDG-1
Specification
AARM-211
AARM-201
AARM-201
AARM-211
AARM-201
AARM-205
AARM-201
AARM901E
FR type system

Coupler body


Yoke


Back seat


Follower


Striker


Coupler parts


Knuckle


Knuckle pin


Draft gear
Table lists
Main Part List of AAR Type F Coupler System
Part Name
Coupler
Coupler Guide
Yoke
Follower
Draft Gear
Type
FR209E
MT2
FR
FR
RDG-1
Specification
AAR M-211 AAR M-201
AAR M201
AAR M211 AAR M-201 AAR M-205
AAR M-201
AAR M901E