Garter seal as mentioned, the first tapered roller bearing units were designed to replace plain bearings. These inch size TBU designs had to match the existing relatively long journal dimension. This design enables the integration of a seal wear ring on both sides where the garter seals are riding. AAR has standardized these garter seals and seal wear rings, which are interchangeable with components from different bearing manufacturers. TEDRAIL can offer SKF seals according to AAR Manual of Standards and Recommended Practices Section H-Ⅱ[S723]-Roller Bearing Manual .TEDRAIL can also provide special LL seal designs for inch size TBUs that generate much lower friction
The LL (labyrinth-lip) seal design is based on a low-friction rubber seal principle that is applied to TBU and CTBU designs. The main features are a combination of labyrinth, lip and flinger elements and improved protection against contaminants to extend bearing service life. The frictional moment can be reduced by up to 75%, compared to a garter seal arrangement. As a consequence, the bearing operating temperature is reduced by 20 ℃, which contributes to longer grease life and energy savings. Results from the seal test, which evaluates water and dust exclusion, confirmed that the design is very effective in excluding contaminants. Long-term endurance tests have successfully been conducted under very severe operating conditions.
LL Bearing Seal Advantages:
improved protection against contaminants

longer grease life

better and longer performance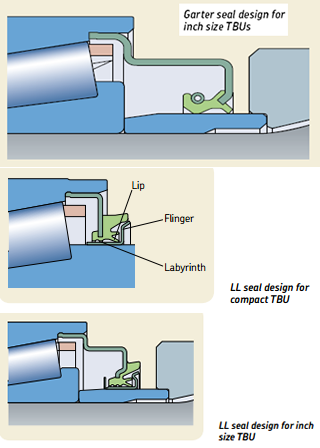 TEDRAIL can supply almost all types of rail seal .Normally ,TEDRAIL could offer following rail seal.
Table lists
| | | | | |
| --- | --- | --- | --- | --- |
| CLASS(SIZE) | AAR SEAL3,3A,3B (Cylindrical Roller Bearing) | AAR23 SEAL (Tapered roller bearing) | AAR23 LL SEAL (Tapered roller bearing) | OTHER SEAL |
| B(4 1/4 x8) | 715748A | 729700 | BT2-8738 A23 | TBU |
| C(5x9) | 715753A | 729701 | BT2-8735 A23/BB | CLASS C SEAL SPACIAL (garter seal) |
| D(5 1/2 x 10) | 715013A | 729702 | BT2-8547 A23/BB | TBU ( FOR SEAL BEARING BT2-8547BA) |
| E(6x11) | 715763A | 729703 | BT2-8516 D23/BB | TBU |
| F(6 1/2 x12) | 715768A | 729704 | BT2-8512 A23/BB | TBU |
| G(7x 12) | 722473 | 729705 | BT2-8739 A23 /BT2-8609/ BT2 8690 B-23 | CTBU |
| K(6 1/2x9) | | | BT2-8606 | CTBU( FOR SEAL BEARING BT2-8720E) |