The Type E coupler, designed in 1932, does not interlock in the vertical direction. While closed Type E couplers will separate only in the most extreme circumstances. This lack of a vertical interlock led to development of Type E shelf couplers and Type F and H couplers. Using varying "locking" features (e.g., top and bottom shelves and machined inter lockings), these more intricate couplers in most cases will prevent disengagement during a derailment, reducing the chances of a train jackknifing, or cars puncturing each other.
Variation of Type E Coupler
All E couplers have a basic "E" coupler head design and coupler tail with the flat hole fixed with Yoke by Draft Key. Such as E60DE, the couple is standard E design for AAR. According to customer requirement, Tedrail could supply a lot of variation of E coupler, such as with Bottom Shelf, Top Shelf or Double Shelf. And also according to the application, the coupler shank length could be adapted.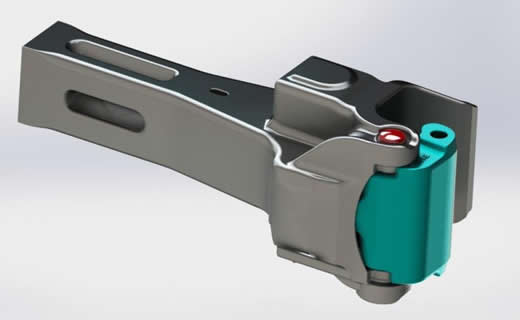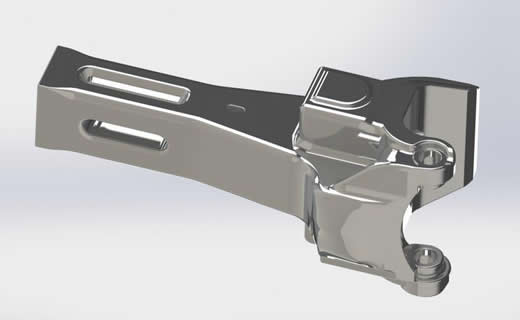 Casting Material:
Material of type E coupler body, knuckle and locks are AAR M-201 Grade C steel or AAR M-201 Grade E Steel which are casted by alloy steel and heated treated as quenching and tempering. Letter "C" or "E" will be casted on the product body indicates the material Grade. There also have the case required more strong material as AAR M-201 Grade E+. Using Grade E+ for coupler body and coupler knuckle will improve the coupler material tensile strength.
Interchangeability
All variation of type E coupler should be interchangeable, and have the No. 10-A contour at coupler mating lines. Coupler Contour should meet the requirement of AAR S-106 specification.
Coupler Operating:
Single Rotary Bottom Operation
Double Rotary Bottom Operation
Top Operation
Unless specified on the order, E coupler will be fitted as Single Rotary Bottom Operating type.
Connection Parts
Yoke:

Y40AE – AAR S-141
Y41AE – AAR S-142
SY40AE - AAR S-143

Follower:
Yoke Key:
Table lists
Coupler complete1111
Parts




Body
Knuckle
Lock
Thrower
Knuckle pin
Single locklift
Double locklift
Top locklift
Type
Shelf & shank type
E60DE
Singe rotary
E60DE
E50AE/E50ARE
E42AE
E30A
C10&C11
E24B




E
21.5"shank


Double rotary
E60DE
E50AE/E50ARE
E42AE
E30A
C10&C11


E25B


E
21.5"shank


Optional top
E60DE
E50AE/E50ARE
E42AE
E30A
C10&C11




E6A
E
21.5"shank
E60EE
Singe rotary
E60EE
E50AE
E40AE
E30A
C12&C13
E24B




E
21.5"shank


Double rotary
E60EE
E50AE
E40AE
E30A
C12&C13


E25B


E
21.5"shank
SE60DE
Rotary
SE60DE
E50AE/E50ARE
E42AE
E30A
C10&C11
E24B




E
21.5"shank


Optional top
SE60DE
E50AE/E50ARE
E40AE
E30A
C10&C11




E6A
E
21.5"shank
SE60EE
Rotary
SE60EE
E50BE
E42BE
E30A
C12&C13
E24B




E
21.5"shank
E67CE
Singe rotary
E67CE
E50AE/E50ARE
E40AE
E30A
C10&C11
E24B




E
25"shank
Double rotary
E67CE
E50AE/E50ARE
E40AE
E30A
C10&C11


E25B


E
Optional top
E67CE
E50AE/E50ARE
E40AR
E30A
C10&C11




E6A
E
E67DE
Singe rotary
E67DE
E50BE
E42BE
E30A
C12&C13
E24B




E
25"shank
Double rotary
E67DE
E50BE
E42BE
E30A
C12&C13


E25B


E
25"shank
E68CE
Singe rotary
E68CE
E50AE/E50ARE
E42AE
E30A
C10&C11
E24B




E/F
31"shank
Double rotary
E68CE
E50AE/E50ARE
E42AE
E30A
C10&C11


E25B


E/F
31"shank
E68EE
Singe rotary
E68EE
E50BE
E42BE
E30A
C12&C13
E24B




E/F
31"shank
Double rotary
E68EE
E50BE
E42BE
E30A
C12&C13


E25B


E/F
31"shank
E69BE
Singe rotary
E69BE
E50AE/E50ARE
E42AE
E30A
C10&C11
E24B




E/F
48"shank
Double rotary
E69BE
E50AE/E50ARE
E42AE
E30A
C10&C11


E25B


E/F
48"shank
E69CE
Singe rotary
E69CE
E50BE
E42BE
E30A
C12&C13
E24B




E/F
48"shank
Double rotary
E69CE
E50BE
E42BE
E30A
C12&C13


E25B


E/F
48"shank
SE67CE
Rotary
SE67CE
E50AE/E50ARE
E42AE
E30A
C10&C11
E24B




E
25"shank
Optional top
SE67CE
E50AE/E50ARE
E40AE
E30A
C10&C11




E6A
E
25"shank
SE67DE
Rotary
SE67DE
E50BE
E42BE
E30A
C12&C13
E24B




E
25"shank
SE68CE
Rotary
SE68CE
E50AE/E50ARE
E42AE
E30A
C10&C11
E24B




E/F
31"shank
SE68DE
Rotary
SE68DE
E50BE
E42BE
E30A
C12&C13
E24B




E/F
31"shank
SBE60DE
Rotary
SBE60DE
E50AE/E50ARE
E42AE
E30A
C10&C11
E24B




E
21.5"shank
Optional top
SBE60DE
E50AE/E50ARE
E40AE
E30A
C10&C11




E6A
E
21.5"shank
SBE60EE
Rotary
SBE60EE
E50BE
E42BE
E30A
C12&C13
E24B








SBE67CE
Rotary
SBE67CE
E50AE/E50ARE
E42AE
E30A
C10&C11
E24B




E
25"shank
Optional top
SBE67CE
E50AE/E50ARE
E40AE
E30A
C10&C11




E6A
E
25"shank
SBE67DE
Rotary
SBE67DE
E50BE
E42BE
E30A
C12&C13
E24B




E
25"shank
SBE68CE
Rotary
SBE68CE
E50AE/E50ARE
E42AE
E30A
C10&C11
E24B




E
31"shank
SBE68DE
Rotary
SBE68DE
E50BE
E42BE
E30A
C12&C13
E24B




E/F
31"shank
SBE69BE
Rotary
SBE69CE
E50AE/E50ARE
E42AE
E30A
C10&C11
E24B




E/F
31"shank
SBE69CE
Rotary
SBE69DE
E50BE
E42BE
E30A
C12&C13
E24B




E/F
48"shank
SE69BE
Rotary
SE69CE
E50AE/E50ARE
E42AE
E30A
C10&C11
E24B




E/F
48"shank
SE69CE
Rotary
SE69DE
E50BE
E42BE
E30A
C12&C13
E24B




E/F
48"shank