Gibson Ring, as well as called retaining ring is arranged between the wheel tyre and wheel center, to prevent the occurrence of relative motion. It has been pressed by Gibson Ring Rolling Machine into the wheel tyre. The Rolling Machine will press the wheel tyre to be deformed and so as to fasten the Gibson Ring.
TEDRAIL can supply the gibson ring according to almost all international standards, such as:
BS 5892-5 Railway Rolling Stock Materials (metric) – Part 5: Specification for steel bars for retaining rings for tyred wheels

UIC 810-3 Technical Specification for the supply of non-alloy flat and sectional steel for tyre retention spring rings.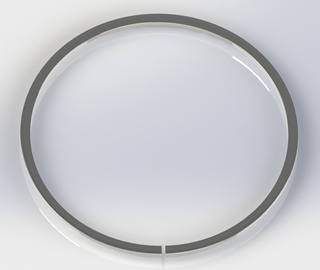 TEDRAIL has been in producing Gibson ring for following types of A ,B,C,D according to BS5892-5:1987 or UIC 810-3 .We can also customize gibson rings according to customer drawing.
Table lists
| | | | | | | |
| --- | --- | --- | --- | --- | --- | --- |
| NO | ITEM NO | PRODUCT TYPE | PRODUCTION METHOD | Materia | SPECIFICATION | COUNTRY |
| 1 | WL0010 | A | Cold drawing | 40B/BS4360 | BS5892-5:1987 | EUROPEAN,IRAN |
| 2 | WL0060 | B | Cold drawing | 40B/BS4360 | BS5892-5:1987 | EUROPEAN,IRAN |
| 3 | WL0061 | C | Cold drawing | 40B/BS4360 | BS5892-5:1987 | EUROPEAN,IRAN |
| 4 | WL0062 | D | Cold drawing | Fe 360B/ISO630 | UIC 810-3 | EUROPEAN,IRAN |