SASKOP coupler system is similar with AAR E coupler system. Yoke, buffer,(Draft Gear ),follower and draft key other accessories of SASKOP coupler system is exchanged with those of AAR E coupler system Except the coupler body and knuckle.

SASKOP coupler is a kind of Knuckle coupler, includes "SS","MS" and "HS" types which are widely used on African, such as South Africa, Botswana, Tanzania, Zambia.

TEDRAIL can supply both the completed SASKOP coupler system and related parts according to customers' project requirement.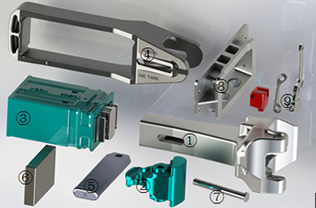 coupler body

Knuckle

Draft Gear

Yoke

Draft Key

Follower

Knuckle Pin

Coupler Guide

Coupler Parts
Main Part List of AAR Type SASKOP Coupler System
Table lists
Part Name
Coupler
Coupler Guide
Yoke
Follower
Draft Gear
Type
SS
CME68/13215-60
Y40AE CME68/31956-467
Y44AE CME68/02891-704
RDG-1
Specification
SASKOPSpec
AARM211
AARM-201
AARM-201
AARM-211
AARM-201
AARM-205
AARM-201
AARM901E